How to protect your rental property in Eau Claire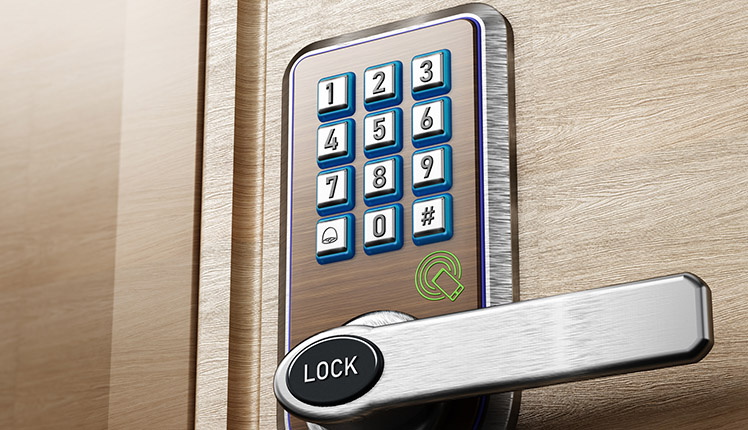 Regardless of whether you rent out the family lake house or you own an assortment of Airbnbs, it can be challenging to protect your rental properties in Eau Claire. With metal keys passing through different renters, it's normal to worry about missing items or past visitors showing up out of the blue. In addition, what would you do when there's a fire or flood at your rental unit when you're away?
From smart locks to comprehensive security with home automation, here are some top recommendations on how to protect your Airbnb in Eau Claire.
Get rid of your keys with your Eau Claire smart door locks
When a visitor vacates the premises, they may follow your instructions and provide the keys for the ensuing occupant. On the other hand, if a tenant grabbed or copied a key, it would be possible to sneak back in later. Needless to say, you have the option to switch out your locks if a key is "misplaced", but that creates delays and cuts into your revenue.
Thankfully, you can put in smart door locks that work in conjunction with your home security system to put these concerns at ease. Then, you can give each visitor their personalized access code. When they depart, there's no reason to mess with an exchange of keys. Instead, simply customize the codes to expire after they vacate the property. If previous lodgers reappear and make an attempt to enter with their previous access code on the door, you will be alerted with an update of the failed attempt on your mobile device.
A smart security system makes available rentals appear occupied at all times
Of course, you hope that your Eau Claire rental property will have a steady flow of renters, but that won't always be true. Nevertheless, you should strive to make it seem that people are present so your Airbnb isn't targeted by burglars. Implementing a security system that includes home automation gives you the chance to benefit from smart lights, motion sensors, and surveillance systems that make your rental appear occupied.
Start by programming your smart lighting to switch on at specified times of the night. You will also set your security app to notify you if your exterior cameras detect an intruder prowling in the dark or walking toward your primary entry. You have the opportunity to take advantage of the talk functionality so they know you can see them or set your lights to instantly turn on when a camera or motion sensor uncovers questionable movement.
Protect your Eau Claire Airbnb with 24-hour monitoring
Your renters can sleep easy if they are safeguarded from burglars, specifically when Eau Claire is unfamiliar territory. In the event a prowler makes an effort to invade your property, your home alarm system will not only initiate the alarm siren but will also notify your around-the-clock monitoring team. Regardless of your location, emergency services will be dispatched. Your monitoring specialists can even act as your authorized go-between and loop you in when you're available.
In addition to break-ins, your monitoring hub can be connected with fire alarms, water sensors, and carbon monoxide sensors. It would be understandably upsetting for your guest if a water heater springs a leak or a fire breaks out. You not only will receive a smartphone alert that an emergency has taken place, but an agent will also arrange for assistance while you're on the way.
Request a modern home security package in Eau Claire
The most sensible strategy to protect your Eau Claire rental property is to install the latest in home protection. Luckily, Vivint offers popular choices like smart lights, smart entry locks, and around-the-clock monitoring. Contact us today and our experienced team will personalize a system that's ideal for your rental. Call (715) 419-6703 or fill out the form to begin!
Communities Served Around Eau Claire By Smart Security Specialists Your Local Vivint Authorized Dealer